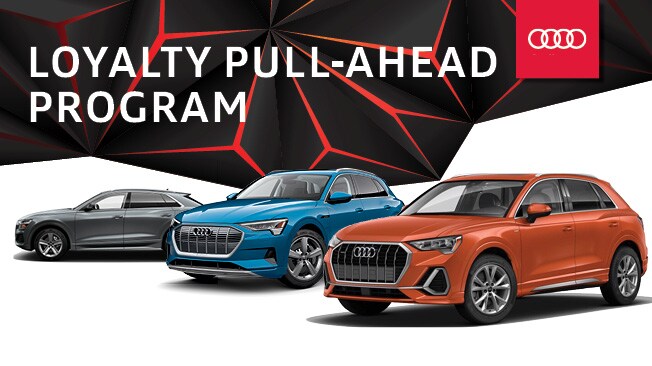 Loyalty Pull-Ahead
Lease Pull Ahead - Up to 3 Payments Waived
Returning Audi Lease customers may have up to 3 months waived on their current lease when upgrading to select new models. Offer ends 8/31/2021.
*Must have a current Audi Financial Services lease maturing between 9/1/2021 and 9/30/2022. Offer available on 2020 A3/S3, 2021 A4/S4, A6/S6, Q3, Q5/SQ5, Q7/SQ7, Q8/SQ8. Must lease or finance with Audi Financial Services and subject to credit approval. Contact dealer for details.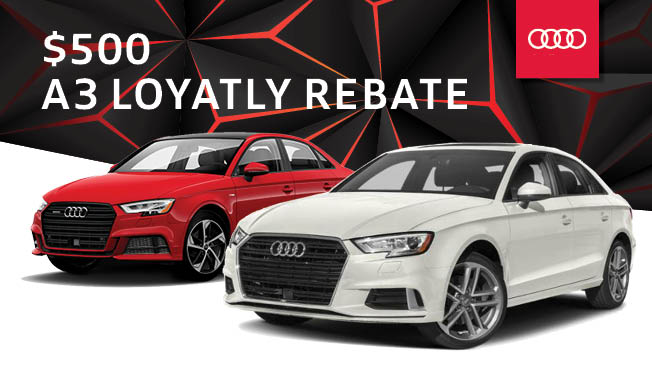 $500 A3 Loyalty Rebate
​$500 A3 Loyalty Rebate
Current owners or lessees of 2013 or new A3 or S3 may be eligible for a $500 rebate towards the purchase of select new 2021/2022 models. Offer ends 8/31/2021.
*Household members of these qualifying vehicles/lessees are also eligible if new vehicle is reported, titled, and registered in the same household. See dealer for exclusions/restrictions.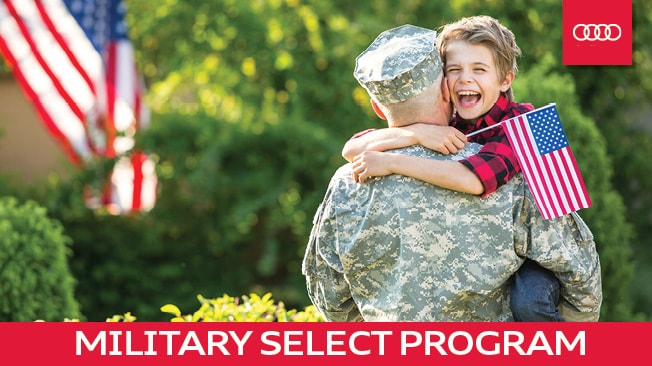 Military Members
​Military Select Program
The Military Select Program is extended to military members purchasing vis the Navy Federal Car Buying Service, TrueCar Military Platform, or the PenFed Car Buying Services.
Eligible customers will receive a bonus of up to $2,000 on select new 2021/2022 models.
Eligible customers must present their unique offer and show their personalized 8-digit alphanumeric code to the dealer in order to be eligible. Offer is valid to whom the unique code is addressed. Family members or members of the same household are not eligible. Offer ends 8/31/2021.
*Restrictions apply, see dealer for details.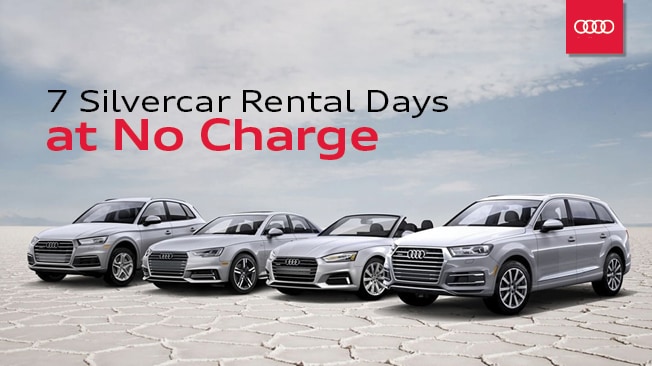 7 Silvercar Rental Days at No Charge
​You can get 7 Silvercar by Audi rental days at no additional charge when you purchase or lease a new Audi vehicle, 2019 model year or newer. Limitations apply.
This is a limited time offer. Audi and Silvercar by Audi reserve the right to modify or cancel the promotional offer at any time. This offer is only available to individual purchasers or lessees of new Audi vehicles, 2019 model year or newer, in the United States between August 19, 2019 and December 31, 2021. If qualified you will receive a Redemption Code vis email once vehicle purchase has been completed, which may be redeemed for seven (7) Rental Credits with Silvercar (each credit representing a one day Silvercar rental. Rental Credits expire 12 months from the delivery date for the vehicles purchased in 2021, 24 months from the delivery date for vehicles purchased in 2020, and 36 months from delivery date for vehicles purchased in 2019 and during that period must be used if available in yur account (i.e. you cannot choose to pay for a rental day if a credit is available in your account). Unused Rental Credits will not be returned. See dealer for additional restrictions.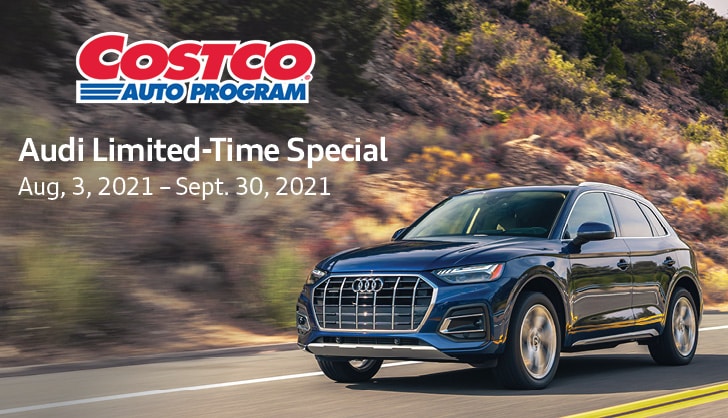 Costco Program
​
Costco Members receive a member-only incentive on select, new 2021 or 2022 Audi sedans, wagons, SUVs, hybrid and electric models. You can also save more by combining available manufacturer Audi incentives for which you may qualify.
$1,000 on Audi Q5, Q5 PHEV, Q5 Sportback, e-tron®, e-tron® Sportback, SQ5, SQ5 Sportback and SQ7
$1,250

on Audi A4 Sedan, A4 allroad®, A5 Coupe, A5 Sportback, A5 Cabriolet, A6 Sedan, A6 allroad®, A7, A7 PHEV, TT Coupe, TT Roadster, TTS, S4, S5, S6 and S7

$2,500

on Audi A8, A8 PHEV and S8
Register to obtain a certificate and unique promotion code or call 1-888-795-0234.
* Provide a copy of your Audi Limited-Time Special certificate to your dealer representative. Enjoy your special incentive on the eligible 2021 or 2022 Audi model of your choice.
*must be a member by 8/3/21